Welcome to the Weymouth Chapter!
If you would like to donate locally to the Weymouth Chapter, please use our GoFundMe Page
And you can also follow the links below to our social media
We have linked up with Crowdfunder and you can support us by donating your NECTAR POINTS to us or through our donations page. Thanking you in advance
https://www.crowdfunder.co.uk/p/cycling-without-age-weymouth-1185158/donate/20
https://www.crowdfunder.co.uk/p/cycling-without-age-weymouth-1185158

https://www.recyclingforgoodcauses.org
https://www.recyclingforgoodcauses.org/wp-content/uploads/2020/03/envelope.pdf
NEWS
We have successfully purchased a second-hand Trishaw and which will be used in Dorchester from November, to train our new pilots and build up awareness and create new partnership ahead of the New Trishaw arriving next year, Cheryl and her team have been working hard and are continuing to raise funds for our new venture.
We know have 5 Trishaws and a 6th very soon which has been a tremendous achievement from our Team in such a relatively   short time.
Congratulations to everyone and thank you to the local community and beyond for helping us cover more MILES OF SMILES
Different Ways to Support us
Recycle your Ink Cartridges 
https://www.recycle4charity.co.uk/register/C98232
Amazon Smile
https://smile.amazon.co.uk/ch/1185158-0
MISSION STATEMENT & GUIDING PRINCIPLES
The Mission of Cycling Without Age Weymouth is: "to realise the dream of our elderly, and people with reduced mobility and those in isolation to give them an opportunity to remain an active part of the local community in Weymouth, Portland, Bridport & Dorchester, to give them "Right to the wind in their hair" Studies have proved that these rides improve mental health and wellbeing of the participants. Cycling Without Age Weymouth cares deeply about everyone with whom we are associated – our passengers, volunteers, supporters, and our team. That care is encapsulated in our five guiding principles:
Generosity
Generosity permeates every single activity in Cycling Without Age Weymouth and works its magic at many different levels.
Slowness
Slowness in a ride enables you to sense the environment and be present in the moment; it allows people you meet along the way to be curious about Cycling Without Age Weymouth.
Storytelling
We share stories, are privileged to listen to the stories of our passengers – and then document these (with permission), sharing them by word of mouth or on social media with the worldwide community of Cycling Without Age.
Relationships
We create a multitude of new relationships across all borders in our society.
Without Age
Age presents no boundaries in Cycling Without Age Weymouth; we engage with all age groups and enable people to age in a positive context – fully aware of the opportunities that lie ahead.
About the
Weymouth

Chapter

Cycling Without Age Weymouth was launched in September 2019 and began  when our first Trishaw  arrived courtesy of Weymouth Golf Club http://www.weymouthgolfclub.co.uk

In our First 6 months of riding we took out 215 Passengers, unfortunately Lockdown kicked  in during 2020 and we only managed 188 passengers, but we secured our 2nd Trishaw thanks to the National Lottery Community Fund, since then through the kindness  of local residents and various Grants we have purchased 2 more Trishaws, the 3rd Trishaw in arrived in May 2021 on Portland and was named the " Jenny Wren" thanks to Elaine Smith who made a very generous donation  and was actively involved with the Wrens for many years.

Our 4th Trishaw  arrived in Bridport in September 2021 and is housed at Bridport Medical Centre.

From April 2021 -Oct 2021 we have travelled with over 600 passengers and on the 5th October 2021 we carried our 1000th passengers taking out a group from Kingsley Court Care Home http://www.friarycare.co.uk

With the help of a great team of volunteers we have built connections with local care homes, support groups in the community.

If you are keen to get involved either with the running of the charity or as a pilot, please get in contact by email  to des@cyclingwithoutage.org.uk

or if your company or business is interested in sponsoring a bike or advertising , please get in contact. We are open to all suggestions to keep this service going for many years.

Partners/Sponsors

A Massive THANK YOU to the following who have made generous donations which enables us to continue to cover many miles of smiles

WEYMOUTH GOLF CLUB – http://www.weymouthgolfclub.co.uk

GEOFF PETHERICK

ELAINE SMITH

LOTTERY COMMUNITY FUND – http://tnicommunityfund.org.uk

CO-OP COMMUNITY FUND – http://coop.localcommunityfund

FAIRBRIDGE TRUST FUND – http://thebridgefairtrade.business.site

THE FRONT SKATE PARK – http://weymouthskatepark.co.uk

DORSET INCLUSION FUND

DORSET COMMUNITY FUND

COMMUNITY AND CULTURE FUND

WEYMOUTH GOLF CLUB SENIORS – http://weymouthgolfclub.co.uk

A J WAKLEY & SONS – http://ajwakely.com

SMITH & SMITH of BRIDPORT – http://smithandsmith.co.uk

BRIDPORT ROUNDTABLE – http://bridportroundtable.co.uk

PORT EAST

LANEHOUSE ROCKS METHODIST CHURCH – http://dsw.church

CO OP FUNERAL CARE – http://coop.co.uk

MATHEW VINCENT

ADAM LUCKHURST – http://agincare.com

PAT CARRIER

BOATFOLK @ Weymouth Marina https://www.boatfolk.co.uk

WEYMOUTH TREFOIL https://www.trefoilguild.co.uk

We are indebted to all these kind individuals and organisations, and to many passengers and passer-by's who have made personal donations  we are humbled by the generosity of the local community.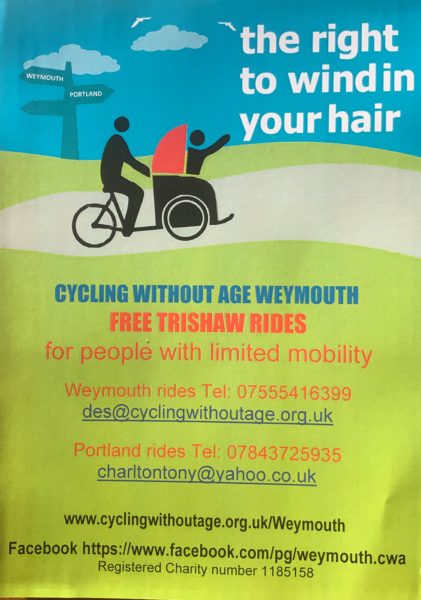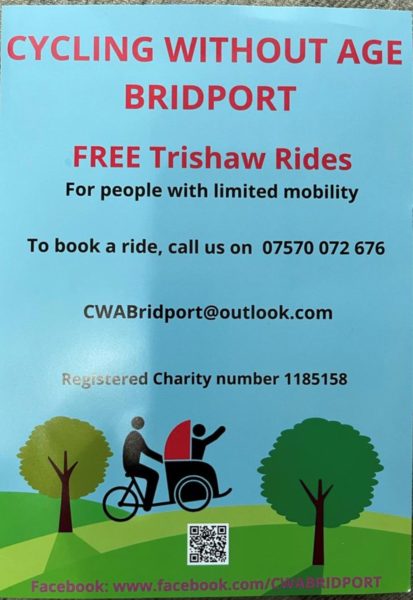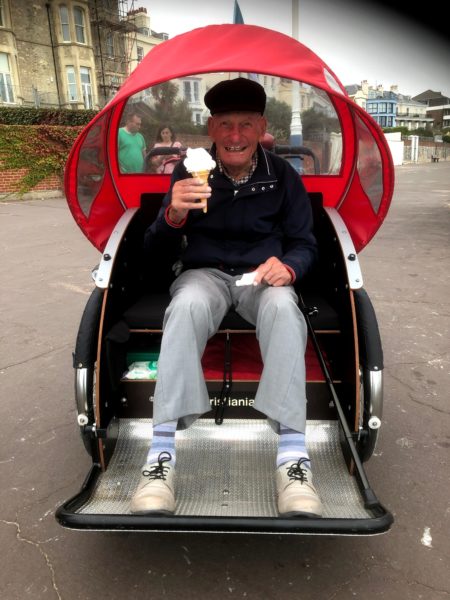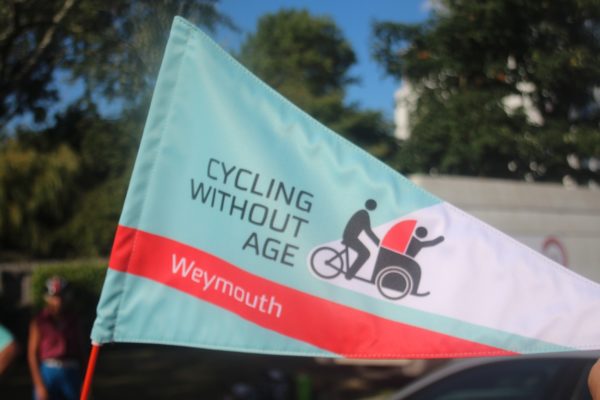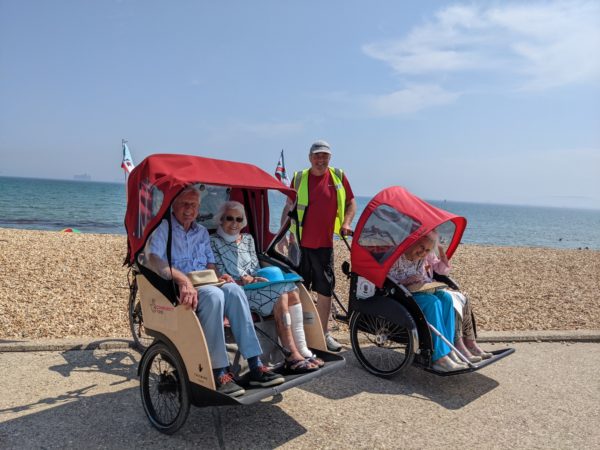 Recycling for Cycling Without Age Weymouth
You can donate all your broken and unwanted jewellery to raise money for Cycling Without Age Weymouth.
If you have any gold, silver, odd earrings, broken chains, costume jewellery and watches, you can recycle them at no cost to you whilst making money for Cycling Without Age Weymouth.
We can recycle:
• Any jewellery – gold, silver, costume jewellery, watches, broken and damaged items (like odd earrings, snapped chains or items with missing stones).
• You can donate any unwanted banknotes from ANY country of any age, so all of those obsolete pre-euro notes are a perfect start!
Our partners at Recycling for Good Causes will reuse and recycle the jewellery and Banknotes, giving the proceeds to Cycling Without Age Weymouth, saving precious raw materials at the same time.
If you would like to send your jewellery and banknote recycling to us, simply use your own envelope or jiffy bag (No bigger than A5 in size) and post free of charge by printing out the freepost label below and attaching to your envelope.
*Please do not send coins or stamps to the freepost address as the postage costs will far outweigh your donation. *
https://www.recyclingforgoodcauses.org/wp-content/uploads/2020/03/envelope.pdf
Meet our Trustees
Des Lochrie
Keith Johnson
Dr David Boyd
Jane Renton
Russell Gibson
Tony Charlton
Cheryl Prosser
Get in Contact
Des Lochrie
Email: des@cyclingwithoutage.org.uk
Tel: 07867937700
For pilot Training please click on link below