About the Portland Chapter
CWA Portland is a satellite Chapter of CWA Weymouth
https://www.cyclingwithoutage.org.uk/weymouth/
Tony Charlton is the lead pilot and if you, or someone you know, would like a ride around Portland email charltontony@yahoo.co.uk or Tel 07843725935 thanks to local donations and grants and the fact that everyone involved is a volunteer these rides are FREE
The CWA Portland chapter started in May 2021 thanks to a very generous donation from Elaine Smith and a grant from  the Neighbourhood Fund from Dorset Community Foundation  https://www.dorsetcommunityfoundation.org  .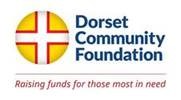 As a thank you we asked Elaine to name the new Trishaw which she dully named " Jenny Wren" as she spent many years with the Wrens mostly on Portland.
We have taken people to visit parts of Portland they haven't seen for a while: one lady had a ride to The Bill where she used to have an ice cream with her husband and was so happy to reminisce, another passenger just wanted to visit the Memory Stones which she had only read about. Our eldest passenger celebrated her 93rd birthday and was greeted by family and friends when she arrived at Portland Bill for lunch and a day full of memories.
You will see the Trishaw at community events where people can have short trial rides, which helps them to be reassured that they are safe and comfortable. if you have an event that you think will benefit from our presence, please get in touch with Tony.
The best thing about Cycling Without Age is the miles of smile from both passengers and volunteer pilots.
If you would like to volunteer contact Tony and he would be more than happy to get you involved.
We have signed up to Crowdfunder and you can now Donate your NECTAR POINTS to support us
https://www.crowdfunder.co.uk/p/cycling-without-age-weymouth-1185158
or send a donation
https://www.crowdfunder.co.uk/p/cycling-without-age-weymouth-1185158/donate/20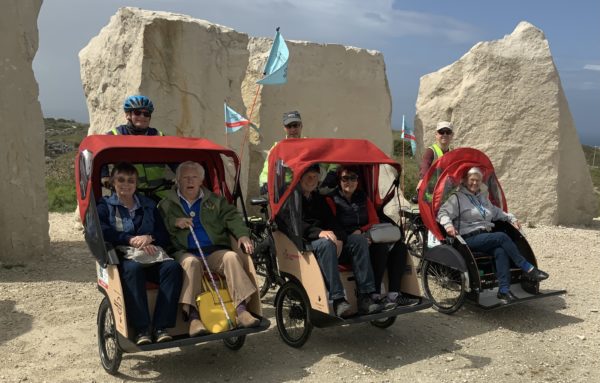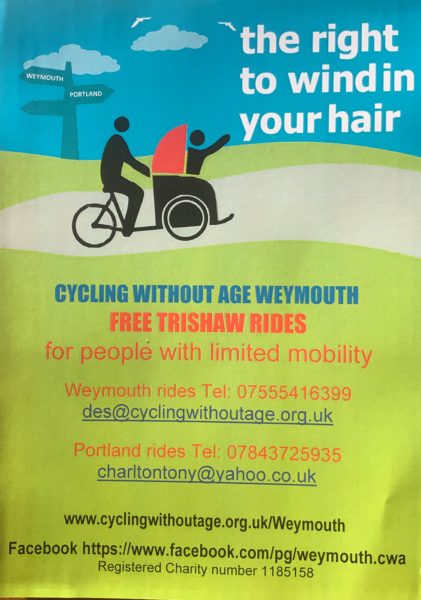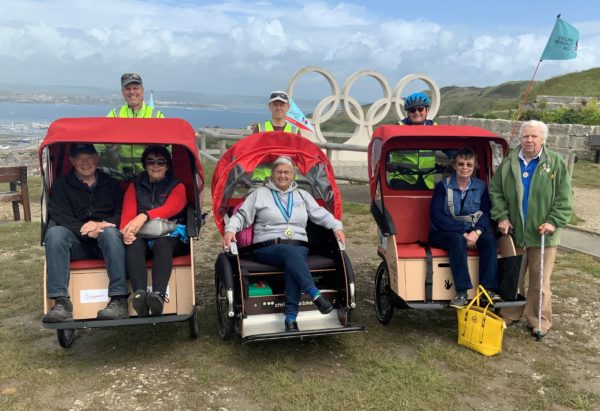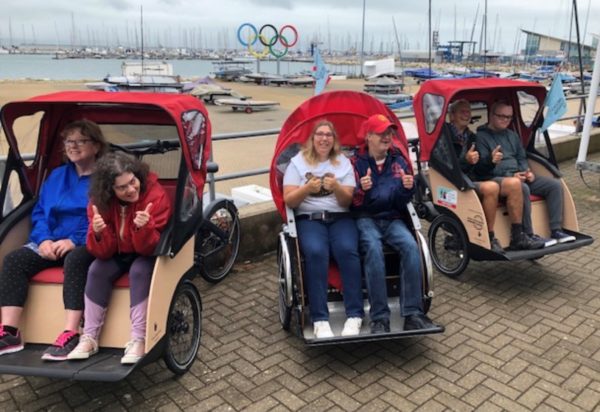 Chapter Status & Plans