Welcome to South Manchester Cycling without Age Chapter!
We are part of the global, volunteer-led, Cycling Without Age movement. A movement designed to reach our elders, people with reduced mobility and feeling isolated. Around the globe there are thousands of trishaws, we have called our Teresa Trishaw after one of our founding members and pilots. 
So far our passengers have told us:-
'I feel like a queen'
'It's so therapeutic'
'So nice to look around and have someone to chat to'
"Yes, it's good to feel the wind in my hair'
Our pilots have said:-
'I love the way it brings smiles not just to passenger faces,  but drivers and other people out and about'
'Its feels such a privilege to be let into the stories of other people's lives – 
*it's like our very own 'listening project'
'It's great to hear passengers talking about fresh air on their faces and their own memories of cycling and playing in the park when they were younger'
To volunteer with us, find out more or book a ride
Please email us southmanchestercwa@gmail.com or ring 07561737985 and in the meantime have a look at our https://www.facebook.com/chorltonbikedeliveries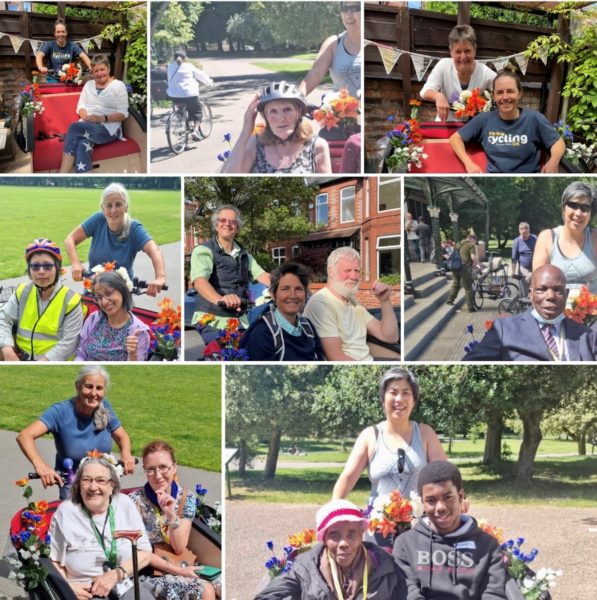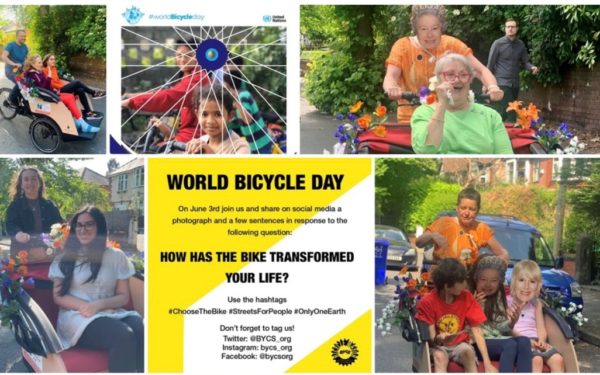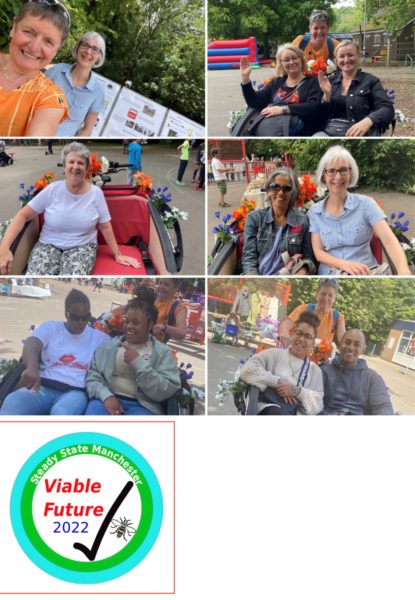 About us
We are part of Chorlton Bike Deliveries set up as a cooperative to support local traders, community organisations and residents at the beginning of the pandemic in April 2020. We have been instrumental in bringing cargo bikes into South Manchester and our expansion to include a Triobike Taxi and offer not just shopping but rides to our older citizens is a very exciting development, inspired by all the CWA Chapters that have gone before us, especially our neighbours in the borough of Trafford.
'Think global – act local'
We are blessed with a wide circle of friends – people that see the potential benefits of both offering rides and being pilots, and feeling sufficiently inspired to make loans and donations that have enabled us to buy our first trishaw. Thank you. We are grateful for the initial consultation with Chorlton Good Neighbours and for our early experience of working with  Together Dementia Support | Manchester Dementia Care Charity . We had fun with Whalley Range not-Jubilee Street Parties and school summer fair; our own picnic in the park and group rides to Station South – Bar | Cafe | Bikes |Co-Working. We will now be extending our reach to local carers, families and South Manchester health and social care agencies. We'd love to help non-cycling family members enjoy time out with friends and families, to have that group experience, to feel included, share in the fun and help make memories. To that end we are registering with Cycling UK | The UK's cycling charity to become a community cycling club. 2 Muslim Night Riders – Home recently took Teresa out for a test ride. Loving it!
To make a donation
We bank with Triodos – a/c 21418535 s/c 16-58-10 ref: Teresa donation. 
Please let us know so we can make a personal acknowledgement, thank you.