Welcome!
Cycling Without Age Hurst & Hassocks is a local chapter of the global volunteer-led movement Cycling Without Age. We aim to reach and improve the lives of elderly people who feel isolated in our villages. We believe life should be full of joy and surprises whether you're three or one hundred and three.
About the
 

Chapter

We take elderly people out for trishaw ride so they are seen and feel part of their local community. We help break them free from social isolation, to feel the wind in their hair, see what's going on, sing if they want to and do something different. 

The amazing thing is that people of all ages smile when they see the trishaw and wave at our passengers. We cycle slowly so it's easy to stop to take a closer look at something or have a chat with someone.

It's especially lovely for the families of people with dementia to see them enjoy rides out on trishaws.

Around the globe, there are thousands of trishaws and they are all given names. Ours are called Bunty, after Bunty Parkinson a wonderfully positive woman who lived in Hurstpierpoint; and Peter, in memory of Peter Charlton. Peter had been a keen cyclist and in later years loved going out for trishaw rides, often with his daughter as the pilot and his wife as his fellow passenger.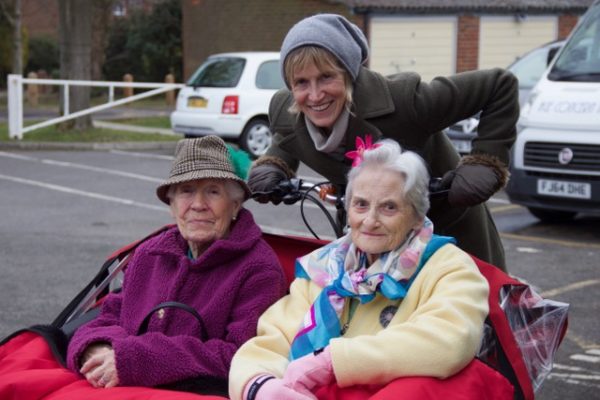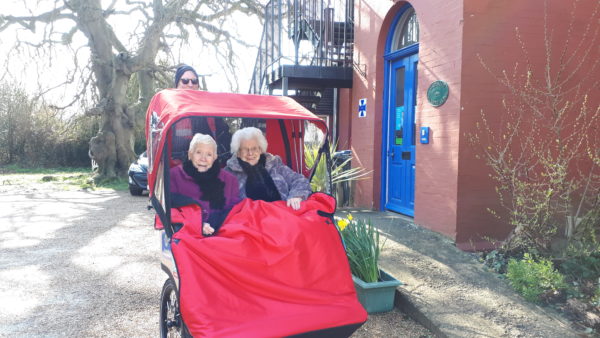 Local connections:
Working with local care and nursing homes, Age Concern, Social Prescribers and a local dementia café we take their resident and members out for rides to explore our villages slowly and see what's going on. We help local residents feel more involved in village life by taking them to local fetes coffee morning, open gardens, etc, we become part of parades and processions and we enter family bike rides.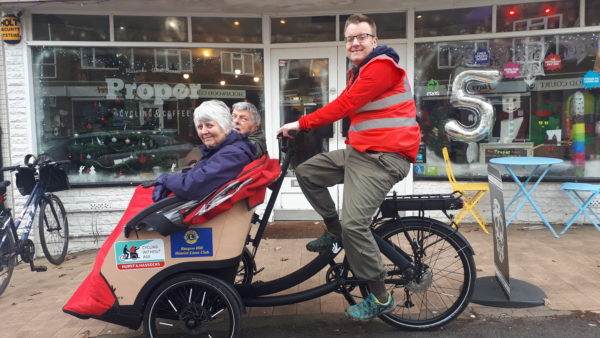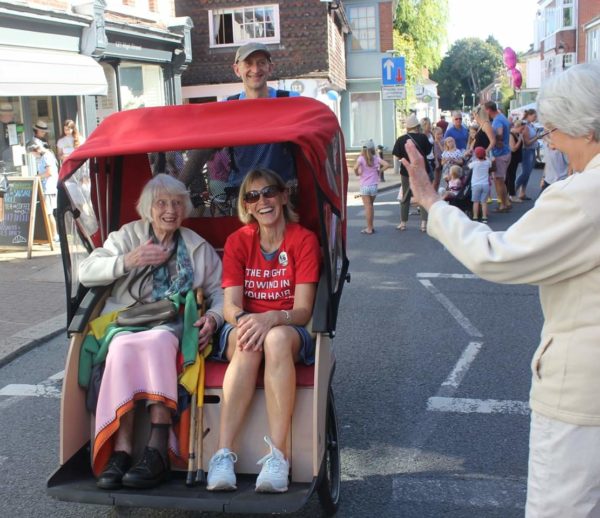 Volunteer with us:
We now have over 20 pilots (the volunteers who do the cycling) who are DBS checked and trained to ride our trishaws. The bike is power-assisted and a guiding principle is to cycle very slowly so it's easy to chat with the passengers and develop friendships.
You don't need to be a super fit cyclist to become a pilot and no lycra is involved, we cycle in our regular clothes! Our volunteers are a friendly bunch both men and women from 16 years upwards. There is no upper age limit, globally the eldest pilot is 89.
When taking out a trishaw you'll either be the pilot, or co-pilot who cycles ahead to point things such as potholes and also to help get passengers in and out. So it's always a team effort.
In addition, we have volunteers who help sort our DBS checks, arrange events, and spread the word. Please get in touch if you'd like to be involved and help tackle social isolation.
Book a ride:
As well as regular rides with nursing homes and local groups we are always happy for local people to book a weekday or weekend ride, pilot availability permitting. We can pick up from home or places such as Proper Cycling & Coffee Café in Hassocks. Please call Bridget on 07929294640 or email bridget@cyclingwithoutage.org.uk
Support Us:
We rely totally on donations and grants for the purchase of our trishaws, on-going maintenance, marketing, etc.
You can make a donation by emailing Paul our Treasurer  at forbseep@googlemail.com
or by bank transfer to:
Account Name: Cycling Without Age Hurst & Hassocks
Sort Code: 30-90-99
Account Number:28163068
Or if you'd prefer you can pop something into our charity pot at Proper Cycling & Coffee 26 Keymer Road, Hassocks BN6 8AN.
If you' d like to receive our bi-annual newsletter, please email bridget@cyclingwithoutage.co.uk